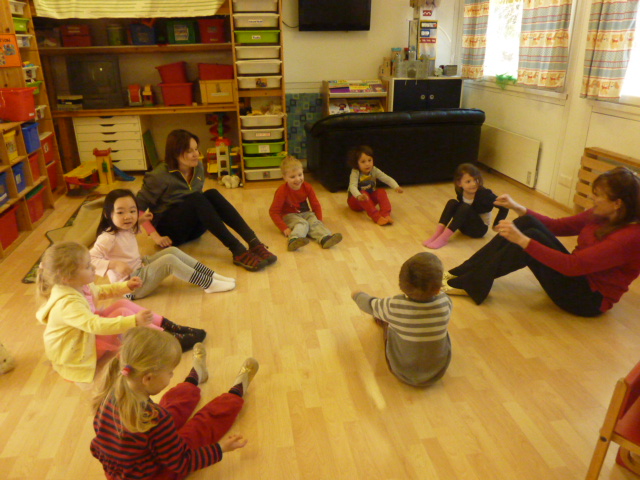 There is a correlation between preschool education, and academic (and life) success… Since observing this connection, our society is becoming more and more aware of the importance of early childhood education – giving each child a right start.
Recently, a national Swedish newspaper brought attention to several children in the country who were failing to get an education beyond the 9th grade. They found that those children had not attended preschool.
Your work is important!
You know that teaching a child in the formative years is very different than traditional sit-at- your-desk classroom education. Every aspect of learning: physical, intellectual, emotional and social needs to be tailored for the young, rapidly growing child.
LiTPEACE provides teachers with the tools to give children a basic and holistic education in very simple ways that children enjoy – through games! We call them Suna Movement Adventures.
Suna has worked with children all her life; first teaching after school gymnastics classes, then concentrating on early childhood education. She was trained as a clinical social worker, experienced as an educator and has studied child development for over 20 years. Almost 2 decades ago, after working with moderate to severe mental health issues in adult patients, she was convince that she could be most effective in helping people by focusing on early childhood – giving each child a right start!
Suna created a movement class for preschools and began developing moving adventure games. These are carefully designed exercises to address healthy development physically, mentally emotionally and socially. She learned from research, pediatric professionals, Ivy League professors and experience – all geared towards providing core learning needs for any child in any culture at any time in history. Thus, the games are universal and applicable to any culture.
The Suna Movement Adventure games have a bundle of learning elements packed in, but the children can just feel like they are playing.
As a Teacher, you may have the opportunity to learn more about the science behind the games through information and training provided in the educator's section of this web site. Or you can go to the parent tab and simply use these games as a tool to help you give your children a right start in life.
Explore this site and make this a wonderful, joyful day!