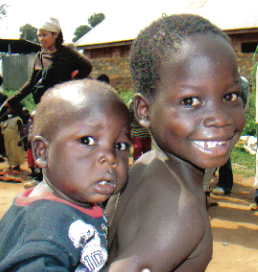 Over 35% of the children in Uganda are orphans. Children as young as 6 years old are left to care for their younger siblings after the last parent died.
Many individuals and organizations make their efforts to bring these street kids back to a normal life through school, including celebrities such as Oprah Winfrey. The United Nations Millennial and post 2015 goals places universal education high on their agenda, as the most effective answer to creating a sustainable world culture of peace.
While most people recognize how crucial the preschool educational years are, from birth to 8 years old, there are no non-profits that we know of who are addressing this need in those fundamental and formative years.
LiTPEACE has a longstanding relationship with one of the organizations with the greatest impact to turn street children into productive adults in Uganda through education,. Dr. Isaac Nsereko, who was a street kid from age 9 to age 17 until a stranger rescued him from an explosion and took him under his roof, founded the Nserester School Complex. WFOHD has been helping Nserester since 2007, as they share a vision with WFOHD and LiTPEACE.
"It is Rev. Dr. Isaac Nsereko's fondest desire that each student will take what they have learned here, be of service to humanity and give back to their communities, their country and the world what they have learned here. It is not only education and skill development that is taught at the Complex, but basic values of honesty, faith and integrity. The children are raised to  be loving, kind and self reliant so that they can discover their own self worth and actualize their full potential as adults in the world." (source)
With your support, LiTPEACE will now offer the Suna Movement Adventures to teachers in Uganda. As tools that give children a basic and holistic education in very simple we can also teach volunteers that can reach many children wherever they are. WFOHD Youth Project served 10,000 orphans via 7 young teens. LiTPEACE continues the WFOD methods that create a higher than 1 volunteer:1000 benefactors ratio.
Shop AmazonSmile in support of our work and Amazon will make a charitable donation to LiTPEACE's parent organization, World Foundation for Original Human Development (WFOHD). Click here to shop AmazonSmile for WFOHD and LiTPEACE!